About Net-Metering 
Net-metering is the process of measuring the difference between the electricity supplied to a customer by their utility and the electricity fed back to the utility by a customer's electric generation system (such as solar panels) during the customer's billing period. In Vermont, customers in the same utility service territory are allowed to form "groups" to share in the output of a net-metering system.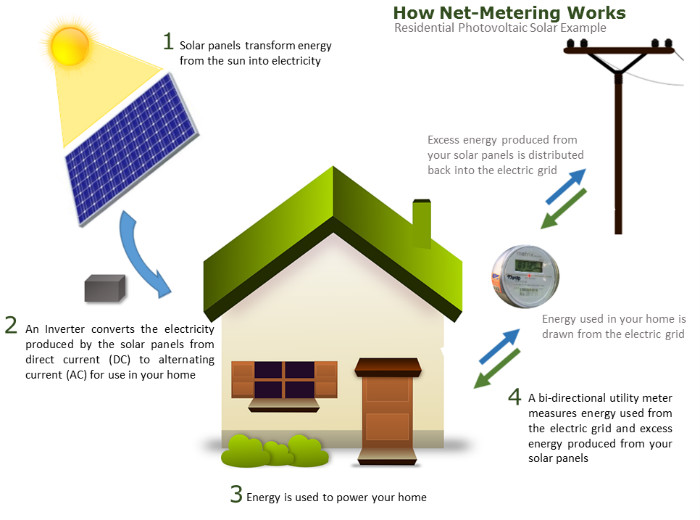 The Public Utility Commission regulates the construction and operation of net-metering systems. The Commission also reviews and approves utility net-metering tariffs, which govern the terms and conditions of net-metering service.
UPDATE - Longer Review Periods Possible for Net-Metering Registrations Filed in Green Mountain Power Service Territory on or After June 27, 2019
Due to the unprecedented volume of net-metering registrations received at the end of June/early-July 2019, Green Mountain Power ("GMP") has filed objections into many of these cases. The objections, usually in the form of a letter entitled "Request for Enlargement of Time", state that GMP needs more time than the usual 10 business days to evaluate these registrations to make sure they can safely interconnect with the grid.
Applicants should be aware that if such a letter has been filed into their registration case on ePUC, their certificate of public good ("CPG") will not automatically be deemed issued after 10 business days. Pursuant to Commission Rule 5.105(E), when an objection has been filed in a case, the applicant may not start construction of the project until the interconnection issue is resolved. Once the Public Utility Commission ("Commission") determines that all interconnection issues in a case have been resolved, the Commission will issue an order deeming the CPG issued.
Useful Links
Revisions to Filing Procedures for Requests to Attribute More Than One Net-Metering System to a Group
Vermont's Net-Metering Statute
Rule 5.100 - Rule Pertaining to Construction and Operation of Net-Metering Systems
Net-Metering Registration Guidance: Amendments and FAQs
2018 Biennial Update of Net-Metering Rate Adjustors
Standards and Procedures for Requests to Attribute Multiple Net-Metering Systems to a Group
Instructions on how to file CPG amendments, transfers, and extensions in ePUC
Search ePUC for Net-Metering CPGs
Net-Metering Forms
Net-Metering Registration Form
Form to use if filing with the Commission by 11:59 pm on June  30,  2019

Form to use if filing with the Commission after 11:59 pm on June  30,  2019
Net-Metering Application Form
Form to use if filing with the Commission by 11:59 pm on June  30,  2019

Form to use if filing with the Commission after 11:59 pm on June  30,  2019
Checklist - Applications for Net-Metering Systems Greater Than 50 kW and Not Located on a Roof or Hydroelectric Facility
Department of Public Service and Public Utility Commission Application Fee Form
Agency of Natural Resources Application Fee Form
Net-Metering Hearing Request Form
Net-Metering CPG Transfer Form